TECHNICAL DESCRIPTION
Recent work done on type materials LixCoO2 helped highlight a resistive reversible switching of a sandwich consisting of a degenerate semiconductor electrode, a thin layer of material and metallic counter electrode.
The reversibility of the red/ox process can be considered very reliable and speeds fast switching.
The material is commonly used in the battery industry and therefore easily integrated into a conventional manufacturing process. The analysis shows that the nature of the electrodes used does not affect the physical processes involved.
Ongoing experiments will complete the technical specification of the structure.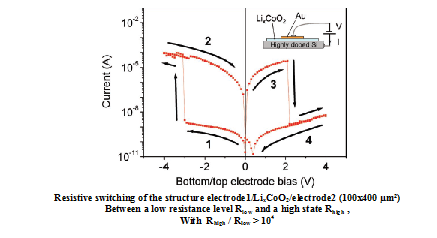 BENEFITS
Using this type of structure whose switching is very fast, reversible and the method of manufacture now well controlled, allow the production of   high-density non-volatile memories integrable in the manufacture of microelectronic components.
INDUSTRIAL APPLICATIONS
The main application field of this type of compound is in the manufacture of integrated circuits and more particularly in the field of rapid and non-volatile memories, and also in complex circuits using memories buffers. (FPGAs, microprocessors…).