Context
Click chemistry consists in synthezing chemicals via the assembly of smaller modular units. The invention relates more precisely to the CuAAC reaction ; copper(I)-catalysed azide-alkyne cycloaddition.
Technical description
The invention lies in the use of new compounds (alpha-hydroxy-beta tetrazoles) in click chemistry, allowing two ligations thanks to two successive CuAAC reactions.
The first ligation is made with molecule (1), then the alpha-hydroxy-tetrazole group is transformed into an alkyne by EDC (a water-soluble crosslinker) treatment. The second alkyne, called latent alkyne (2), is used for a second CuAAC reaction (3), allowing the addition of a second molecule.
The second alkyne being latent (not in the form of an alkyne during the first ligation) allows the grafting of a different molecule on the latter. This process can be seen as an orthogonal use of click chemistry.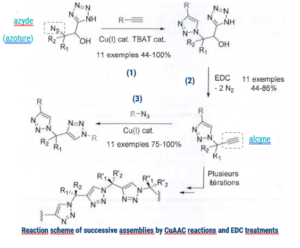 Development stage
Various compounds already synthesized
Benefits
Multiple reactivity of the alpha-hydroxy-beta tetrazole group
Reaction at ambient temperature
Industrial applications
Bioconjugation (ligation of chromophores on biomolecules)
Photovoltaics (grafting of active compounds on surfaces)
Medicinal chemistry (automated preparation of peptidomimtics on surfaces, thanks to the 1,4-triazole which is a peptidic bond analog)