CONTEXT
Butadienyl phosphines are molecules that are interesting in coordination chemistry and catalysis since they combine two very well-known ligands: phosphines and conjugated dienes. However, these molecules have never been used in catalysis, probably because existing synthetic routes are neither general nor efficient.
Very few examples of butadienyl phosphines are described in the literature. In the context of our studies on highly nucleophilic metalated ylides, we recently discovered a new, general, one-pot synthetic route to prepare these potential ligands. The first example of a catalytic reaction using butadienyl phosphines is thus described. We found that 4-phenyl-1,3-butadienyldiphenylphosphine 4 is indeed an excellent ligand for Ullmann-type copper catalyzed arylations of N- and O-nucleophiles. Moreover, by following the reactions using 31P NMR, we are also able to propose a mechanism.
TECHNICAL DESCRIPTION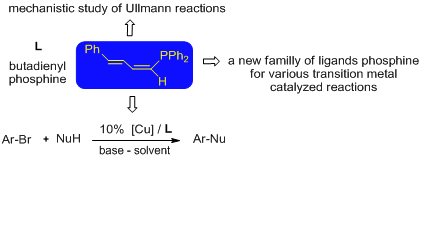 BENEFITS
In conclusion, we discovered the first known application of a butadienyl phosphine as ligand in a catalytic reaction.  These phosphines available on a large scale from a general synthetic method we recently developed, were in fact a very efficient ligand in Ullmann-type copper catalyzed arylation. In addition, this ligand provided us with some insight into this reaction, whose mechanism has been little studied until now. The potential field of application for these ligands is very important in all type of transition metal catalyzed reaction and also as dienes in Diels-Alder reactions.
INDUSTRIAL APPLICATIONS (see the context above)
PUBLICATIONS
Copper-catalyzed arylation of nucleophiles by using butadienyl phosphines as ligands: mechanistic insight. Angewandte Chemie, 2009, 48, 333