CONTEXT
Biosensors are relevant analytical systems for improving people's health.
Electrochemical biosensors are specific tools comprising immobilized ligand on the surface of electrodes. There is still a need for specific materials which could enhance the performance of these electrodes. The inventors describe a new kind of carbon-based material intended to be used for this purpose.
TECHNICAL DESCRIPTION
The present invention relates to a porous electrochemical electrode made up of a solid cellular material provided in the form of a semi-graphitised carbon monolith comprising a hierarchised porous network free of mesopores and including macropores with a tunable mean dimension dA of 1 [mu]m to 100 [mu]m, and micropores with a mean dimension dI of 0.5 nm to 2 nm, said macropores and micropores being interconnected. In said electrode, the macropores contain at least one electroactive species in direct contact with the semi-graphitised carbon that makes up the surface of the macropores. The invention also relates to a method for preparing such an electrode through a rational design as well as to the use thereof as a biosensor or for manufacturing a biopile.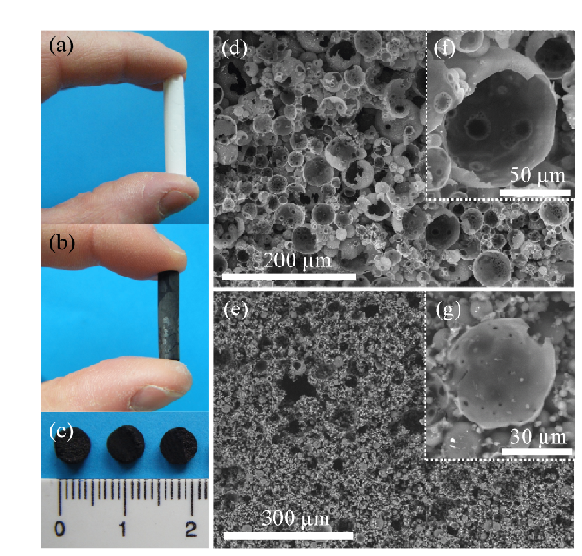 BENEFITS
We have shown that this new porous materials was more efficient for the oxidation of glucose and the reduction of O2, either  in Direct electron transfer (DET) or in Mediated electron transfer (MET), than any other porous materials.
Flexer V, Brun N, Backov R, Mano N (2010) Designing highly efficient enzyme-based carbonaceous foams electrodes for biofuel cells. Energy Environ. Sci. 3: 1302-1306. Cover article
Flexer V, Brun N, Backov R, Mano N (2011) Porous Mediator-free Enzyme Carbonaceous Electrodes Obtained Through  Integrative Chemistry for Biofuel Cells. Energy Environ. Sci. 4(6): 2097-2106. Cover article
INDUSTRIAL APPLICATIONS
The electrodes of this invention could be used for manufactoring the biopiles, biosensors but also to any
devices that necessitates a high specific surface.
DEVELOPMENT STAGE
We already demonstrated the concept and the material is available for testing.